General Terms and Conditions:
italki works with Emmersion, and Oxford Online Placement Test to provide online language placement tests for language learners.
Test contents:
Italki Language Test is powered by Emmersion, Emmersion offered two kinds of test contents, Emmersion Speaking test and Emmersion Grammar test. The Emmersion Speaking test is available for 7 languages: English, French, Spanish, German, Japanese, Portuguese and Italian, and is designed to use neutral accents and not focus on a specific dialect. However, the Spanish test uses a Latin American accent, and the Portuguese test leans towards a Brazilian accent. The Emmersion Grammar test is available for 5 languages: English, French, Spanish, German, and Italian.
OOPT, Oxford Online Placement Test includes an English grammar test.
Expiration:
1. Oxford Online Placement Test is valid for a year from the purchase date.
2. italki Language test is valid for 1 year after purchase, you can take up to 4 times tests within one purchase. To take the test, you need to activate it to start, italki Language Test won't limit you to activate the same language for these 4 tests, you can choose any available language you want to activate each time. Once the test has been activated, it is valid for 30 days after the day it was activated.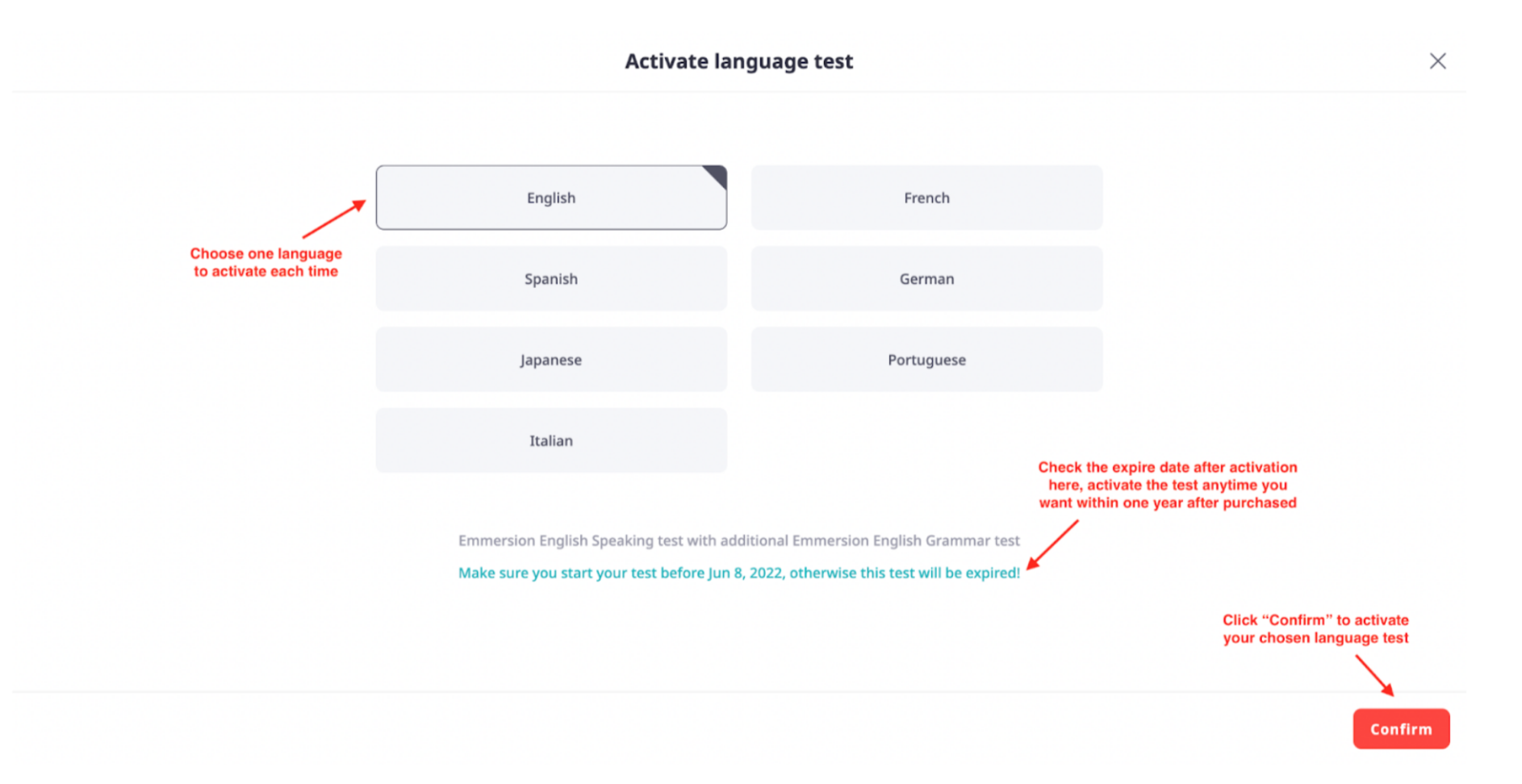 Cancellation:
italki Credits need to be purchased to pay for the italki Language Test or Oxford Online Placement Test. italki Credits Refund and Expiration Policies apply to any italki Credits purchase. Successful purchases of language tests cannot be canceled or refunded.
What should I prepare before taking the italki Language Test?
How long will the test take?

The test will ask you about 40-45 questions, which should take about 15 minutes to 30 minutes.
However, it all depends on you. The computerized adaptive testing adapts to the examinee's ability level. There isn't a set number of questions, and the questions won't always be the same. For example, if you perform well on an item of intermediate difficulty, they will then be presented with a more difficult question. Or, if you performed not so well, you would be presented with a simpler question.
For the OOPT test, please make sure that you click "submit" at the last step to complete your test within the one-hour time limit. Otherwise, you won't get a score as the exam didn't finish in time.
When and where can I see my result on the language test on italki?
After successfully submitting your answers, you can find the test result on the Language Test Page under "My Results".
You will get your result immediately after you finish the italki Language Test, and you'll be able to find the test result on the Language Test Page under "My Results". However, if you encounter connection issues, your score may be delayed by several minutes.
What should I do if I don't want to show my OOPT result on italki?
You can go to your Profile page, click Edit Profile > Oxford Online Placement Test, click the edit icon to change your OOPT privacy settings if you don't want the result to be public.