If you have a webcam built into or connected to your computer, you can record a webcam video on YouTube and upload it directly to the site.
For tips on what to say in your video, please read these instructions on how to make an introduction video. When you're ready to record, read the following:
How to record your video:
The easiest way is to record your video introduction using webcam. This can be done using your computer's webcam.
1. Click the Record from webcam link on the upload page, or simply go to http://webcamera.io to get started.

2. Select Allow if you're asked to permit YouTube to access your camera and microphone.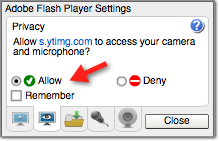 Preview and download your video
1. After you've recorded the video, you can preview it by clicking the Play button.
Not happy with the video? No problem! Just click the Save button below the video.


When you're satisfied with the video, then login your YouTube account and Upload your video to YouTube.
Learn how to add subtitles or captions to your YouTube video here.
2. Set your video title and description according to the following instructions.
For your title and description:

Protect your privacy: Do not give out your personal contact information in the video description. 

YouTube Options:
Allow embedding (this will allow the video to be played on your teacher profile)

List video as either PUBLIC or UNLISTED (this will allow italki staff and students to view your video). Do NOT set the video to PRIVATE (YouTube users can read about YouTube privacy settings for more information).

Set your video title: For example "Mission 1 - Learning German"
Add the video link to your Video of the Mission (URL of YouTube Video) section on the Mission submission page.