How to use the italki Habit Building Calendar:
Print out the calendar and choose one of our special offers to get an italki Credit discount.
Plan your month by coloring the icons and filling in the calendar with learning activities and italki lessons.
Complete learning activities and track your progress as you build your learning habit!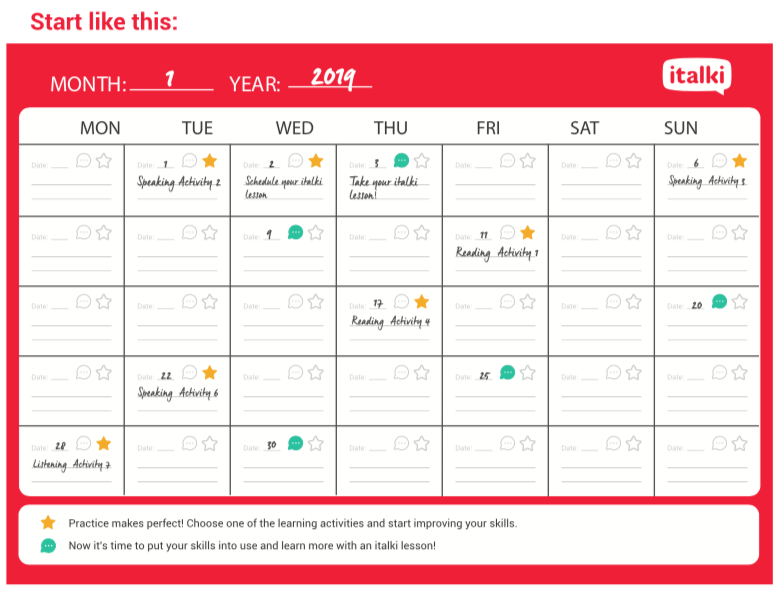 Are you a complete beginner? Here's a plan you can follow for the first week of the calendar:
Day 1: Speaking activity #2. Write down 3 goals you want to achieve during your first lesson in your target language.
Day 2: Find your italki teacher and schedule a 1-hour lesson with them.
Day 3: Take your italki lesson!
Day 4: Speaking activity #8. To practice your vocabulary, every time you see an item that you have learned how to say in your target language try to replace the word.
Day 5: Writing activity #24. For every new word you have learned during a lesson, write down 1 sentence.
Day 6: Select the activities you'd like to do the following week.
Day 7: Good job so far! You deserve a day of rest.
Are you a more advanced student? Here's an idea of how you could start building your calendar:
Day 1: Find or contact your italki teachers and schedule your next language lessons on italki.
Day 2: Reading activity #7. Find a video in your target language with subtitles in your target language. Turn off the sound and just focus on reading the subtitles. How much can you understand?
Day 3: Double down on your language learning: take 2 or more hours of italki lessons in your target language!
Day 4: Writing activity #25. Write a review of your teacher (yes, a real review to go on italki!) in your target language. Review the class, write about what you learned, how you felt, and what you want to learn next.
Day 5: Speaking activity #6. Find some tongue twisters in your target language and practice them until you're confident.
Day 6: Listening activity #2. Try listening to only one genre of music in your target language. Are there any words that always seem to appear in this genre?
Day 7: You're on the path to fluency! Select the activities you'd like to do in the following week.
Easy, isn't it? Now print off your calendar and start building your language learning habit! Start now