italki allows users to find a teacher that suits their needs the most. So out of 10,000+ teachers, what should you know to select the best one for YOU? Getting to know our teachers will give you quick guidance.
This article will introduce:
What are Professional teachers and Community Tutors?
Professional Teachers are trained with teaching skills in foreign language acquisition. They have at least one of the qualifications below:
Professional teaching experience in a school, university, or language institute

University degree in education

Teaching certification (i.e. CELTA or TESOL) from an accredited institution
Community Tutors may not be certified, but they are native speakers who are knowledgeable and passionate. They can offer conversational practices through informal tutoring and help you with learning their languages and understanding the culture.
Each application is reviewed carefully by italki staff who are also educators. Both types of teachers are native or advanced (C2) level of their teaching languages. Teachers are only accepted after being vigilantly assessed and passing italki's application process, including identity check, teacher training, and video interviews. (What is the Application Process?)
How can I find a teacher that's the best for me?
Different filters can be used to select the best teacher for you based on your preferences.
For example, if you hope that your teacher can speak your language so that you can communicate smoothly during the lesson, click "Also Speak", tick the language and click "submit" to filter by the languages.

Move the cursor to the language bar. You can check the teacher's language level.

If you are looking for specific types of lessons, filter by lesson "Category".

Other optional filters are prices, available time slots (displayed in your timezone), lesson categories (business, exam prep etc.), native speakers and so on.

Furthermore, you can check factors below as a reference:
Rating scores
Written and video introductions
Lesson description
Background and verified credentials
Lesson statistics and student feedback
We suggest that you click the "contact teacher" button to fill in a contact form and tell your teacher more about your study plans, learning goals, preferences etc.
web

app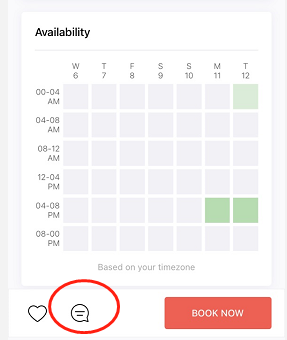 What are the courses like? Are there any textbooks?
Teachers are offering tailored 1-1 lesson for each student. So lesson structure, class forms, and materials can be discussed with your teacher to customize your study plan.
Professional Teachers normally have learning materials such as textbooks, PDF, Powerpoint slides, and videos. You can check teachers' lesson descriptions and ask if materials can be provided.
I've found a great teacher! How can I schedule a lesson?
Click the "Book now" button

Select the language you'd like to learn (if your teacher teaches different languages) and the lesson (What are Trial Lessons? What is a Lesson Package?)

Select the lesson duration. Teachers can decide how long the lessons are, such as 30min, 45min.

Select the lesson date and time.

It is displayed in your timezone. (check Timezone settings on italki)
Select your lesson communication tool (What device/software do I need to take classes?)
Send a lesson request and wait for it to be accepted. (Why hasn't my lesson request been accepted?)