How to log in Business Account?
1. When the BOS account is ready, administrators can log in to italki Business with the admin account.
2. After login, administrators can use the following functions:
Have an overview of all members lesson details
Download individual report and all members' report

How to download the report for all members each month:
Go to https://www.italki.com/bos/members

How to download the learning report of each individual:
Go to https://www.italki.com/bos/reports

Buy Credits for BOS account
Administrators can buy the credits via bank transfer with italki bank information when click "Buy Credits" button.

Add/Remove Credits
Only Administrators can realize the action of "Add/Remove Credits".

Add a new member
On the top right next to "Buy Credits" is where you can "Add a New Member".
Admin can only add a new member who has never registered on italki.com. For email which has already
been registered on italki, please email italki to add.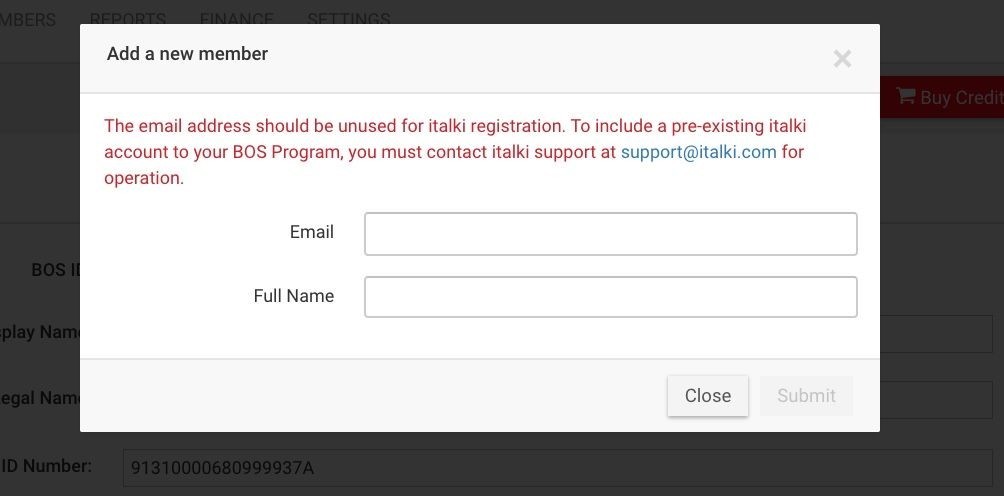 Set as Administrator
Administrators can add/remove multiple users as Administrators. All administrators have the same
rights to all functions on BOS.

Deactivate/activate a member



Settings
The administrator can edit the company profile at https://www.italki.com/organization/settings. This includes Display Name, Legal Name, VAT ID Number, Country, Billing Address, Contact, Phone.
After the edit is done, please click "save".