Refer a Friend
Refer a Friend is italki's referral program where you can earn credits and coupons for inviting your friends to italki! Earn $15 for each friend you invite that successfully takes their first lesson. As they continue to take lessons, you will earn additional rewards in the form of credit coupons.
The more they learn, the more you earn!
If you already have an italki account, you can start inviting people from your Referral Dashboard located here: Link
When will I get a referral bonus?
When an invitee signs up a new italki account through an inviter's referral link and then successfully takes the first lesson, the inviter will get $15 and the invitee will receive $10 italki Credits in the Student Wallet as the first referral bonus.
The more your friends Learn on italki, the more credits you can earn. As your friend takes lessons on italki, you'll both earn additional rewards. Check the Referral Rules below: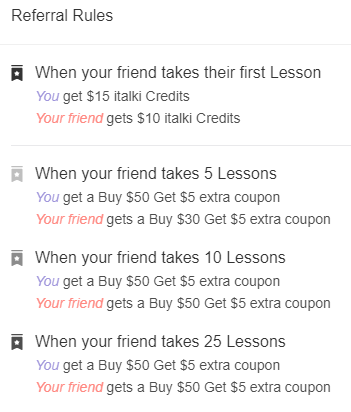 Terms and Conditions
When you invite a friend to italki and they successfully take a lesson, you will both earn italki credits. You will earn $15 while your friend will earn $10.
Coupons must be used within 30 days of their issue date or they will expire.
Users who refer themselves are not eligible to take part in the referral program. Anyone who abuses the referral program will not receive the referral bonus and their accounts may be suspended.
Fraudulent purchases will not receive the referral bonus.
All decisions made by italki are final.