Must read
Check if all the languages you intend to teach are open for applications
e.g. You intend to teach 2 languages - English and Korean. If English is closed and Korean is open this week, then you can only apply to teach Korean.
Applicants with higher teaching qualifications and more teaching experience will have priority. Not all applications that meet our requirements will be accepted.
Teachers must be ready to teach immediately after being accepted
List of open languages
Languages not listed in the table below are all open
There is no definite time frame when a language will reopen
The list updates every Monday (UTC +8)
12th - 18th April 2021
Difference between Professional Teacher and Community Tutor
| | | |
| --- | --- | --- |
| Language | Professional Teacher | Community Tutor |
| Chinese | Closed | Closed |
| English | Closed | Closed |
| French | Open | Open |
| German | Open | Open |
| Italian | Open | Open |
| Japanese | Open | Open |
| Korean | Open | Open |
| Portuguese | Open | Open |
| Russian | Open | Open |
| Spanish | Closed | Closed |
| Afrikaans | Open | Open |
| Arabic | Open | Open |
| Cantonese | Open | Open |
| Catalan | Open | Open |
| Cebuano | Open | Open |
| Czech | Open | Open |
| Dutch | Open | Open |
| Filipino (Tagalog) | Open | Open |
| Greek | Open | Open |
| Hausa | Closed | Closed |
| Hebrew | Open | Open |
| Hindi | Open | Open |
| Hungarian | Open | Open |
| Igbo | Closed | Closed |
| Indonesian | Open | Open |
| Kanuri | Closed | Closed |
| Nigerian Pidgin | Closed | Closed |
| Norwegian | Open | Open |
| Persian (Farsi) | Open | Open |
| Polish | Open | Open |
| Romanian | Open | Open |
| Serbian | Open | Open |
| Swedish | Open | Open |
| Thai | Open | Open |
| Turkish | Open | Open |
| Ukrainian | Open | Open |
| Urdu | Open | Open |
| Vietnamese | Open | Open |
| Yoruba | Closed | Closed |
* It includes all the varieties of a given language. e.g. German includes Austrian German and Swiss German.
* Please refer to the latest language status in the application form.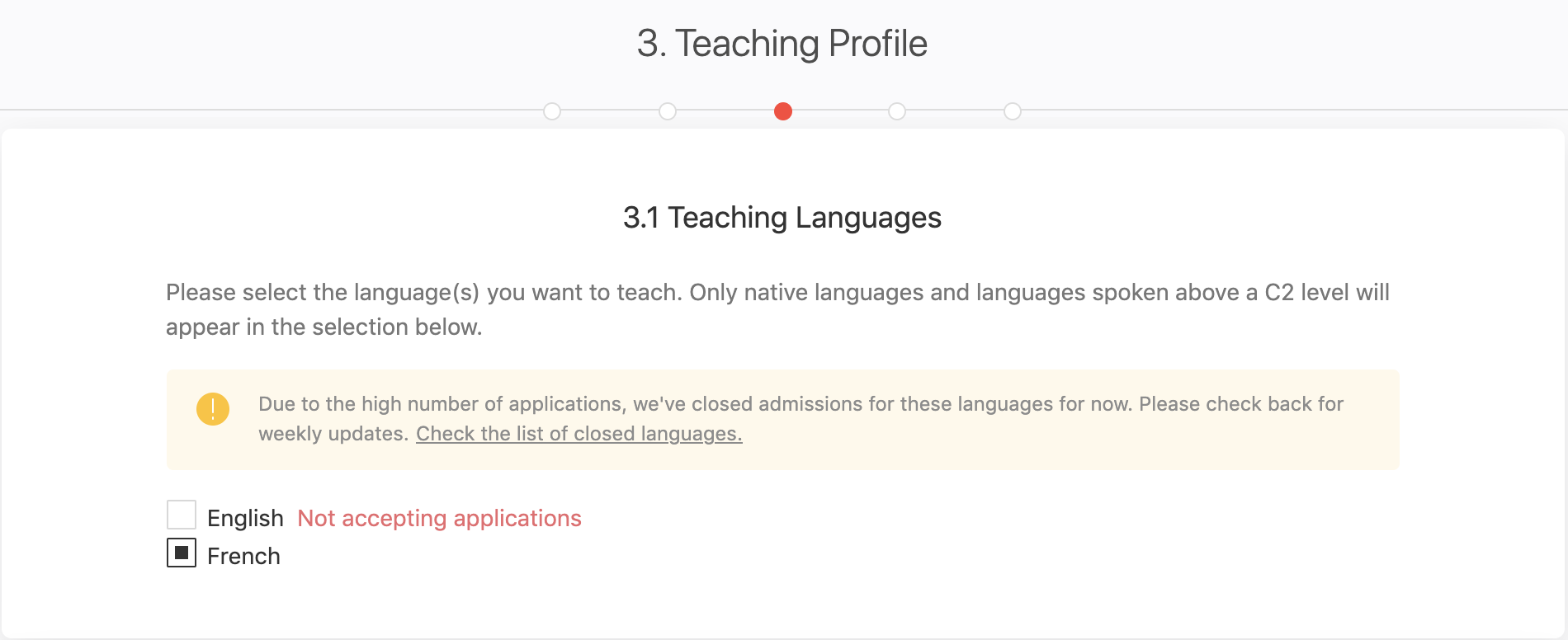 Application steps
Submit an application

on

https://teach.italki.com (on a computer or laptop, not available on the phone).

italki will notify applicants of the application result

within

10 business days

Pre-approved. Complete the following steps within 10 calendar days upon the pre-approval email being sent to you.
Approved. Set up lessons and calendar before starting teaching.
Commonly asked questions
1. I forgot to attach certificates/work experience and I want to change my video, can I make changes?
Your application will be under review and changes are no longer accepted after submission. Please check your application before submitting it.
2. I'm a native English speaker but I can also speak Italian. Can I apply to be an English Professional Teacher and an Italian Community Tutor?
Each applicant can only choose one teacher type, either Professional Teacher or Community Tutor.