You can record your video using a webcam, smartphone, or even a video camera if you have one! The video file can be uploaded directly to italki.
For tips on what to say in your video, please read these instructions on how to make an introduction video. When you're ready to record, read the following:
How to record your video:
Recording equipment
"Basic"

"Smart"

"Professional"

You can create a video in minutes!

Be sure that the video is steady and the sound is clear.

Professional equipment is not necessary, but it does help!

Video: Webcam

Audio: Microphone

Video: Smartphone/Tablet camera

Audio: Separate microphone

Video: Professional Camera

Audio: Field recorder windscreen
Tips: Shooting Video with an iPhone
If you have previously uploaded an introduction video to YouTube:
You can download your own video as an MP4 file, and then upload it to italki.
Instructions: How to download your video from YouTube
How to upload your video to italki:
After you have the video file, login to your italki account and simply go to Teacher Settings > Edit Profile > Teacher Video Introduction (https://www.italki.com/settings/profile)
After you have uploaded the video to italki, it may take about 10-15 minutes to process. After that, you will see a preview of the video.

Once the processing is complete, it will be sent to italki staff for approval before the change appears on your profile page. This may take a day or two.
What if I want to update my video later?
If you decide later that you want to update the video, you just need to go back to your Teacher Settings and click "Change the video".
For more details: FAQ: How can italki promote my video introduction to new students? 
Tips: The easiest way is to record your video introduction using webcam. This can be done using your computer's webcam.
1. Click the Record from webcam link on the upload page, or simply go to http://webcamera.io to get started. 

2. Select Allow if you're asked to permit YouTube to access your camera and microphone.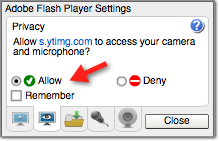 3. After you've recorded the video, you can preview it by clicking the Play button.
Not happy with the video? No problem! Just click the "Record New" button. When you're satisfied with the video, click Save button below the video and Download video.


If you have any questions, please contact us at teacherhelp@italki.com