Refund Policy
Can I get a refund of my purchase of italki Credits?
All purchases of italki Credits are final.
When you buy italki Credits, they are yours to keep and cannot be refunded. They will always be available so long as you maintain an active account by logging in every 12 months.
Once the transaction has been confirmed and validated by our payment partners and security systems, and you have received the credits in your Student Wallet, then the purchase is completed or final.
Can I get my credits back from a lesson?
Although we are not able to process refunds from purchases of credits, we want to make sure that you are happy with your lessons on italki.
If you need a credit refund for a lesson, please discuss this first with your teacher. This refund would put the credits back into your Student Wallet. If you and the teacher both need help, please contact italki support.
Your credits are yours to keep so long as you maintain an active account by logging in every 12 months.
Does italki.com share information about me with third parties?
italki provides information about you to others under the following circumstances:
Credit Card Authorization and Fraud Screening Services:
If you use a credit card to purchase italki Credits, depending upon the purchase method, fraud verification services established by our payment processors will be invoked to validate your credit card purchase. These are standard procedures that occur in conjunction with every Internet transaction regardless of the service being bought or sold.
Agencies or Authorities with Whom we are Legally Required to Cooperate:
italki may disclose personal information to the proper authorities during the investigation of fraud or illegal activity as mandated by international law.
Credit Expiration Policy
Your italki Credits will not expire as long as you are an active member of italki.
italki Credits will be valid for one year after your most recent login date. If you do not log in at least one time in one year, then your italki Credits will expire and be deleted from your account.
This is done to maintain updated and accurate records.
All you need to do is log in at least once per year to ensure your italki Credits remain valid and available for you.
Receipts and Invoices
You can download and print your receipt or invoice by navigating to https://www.italki.com/finance/overview. Once there, simply press the View/Download Receipt button next to the purchase record that you wish to download.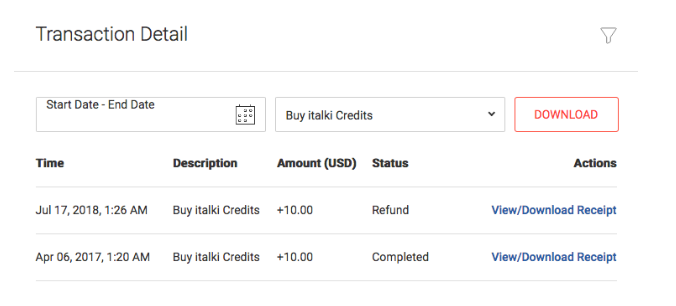 Need help?
If you need to transfer your credits to a different account, if you have any payment problems, or if you need support for a special situation, please contact italki support, and we will help you as quickly as we can.