Device
You will need a device with a camera. It is strongly recommended that you prepare a set of headphones and a microphone for an excellent class experience.
Software / Communication Tools
You can visit www.italki.com in a browser or download the italki app (available on Android and iOS).
When booking a lesson, you can choose any of the following options as your lesson communication tool.
italki Classroom is available for both teachers and students and can be accessed through a web browser or italki App. (

What is the italki Classroom?

)

Other optional communication tools, such as Skype, Facetime, or WeChat, are provided by teachers according to which ones they use.

If instead of using italki Classroom, you are using other communication tools, you will need to provide the Account Name or ID of them so that it can be found by your teacher.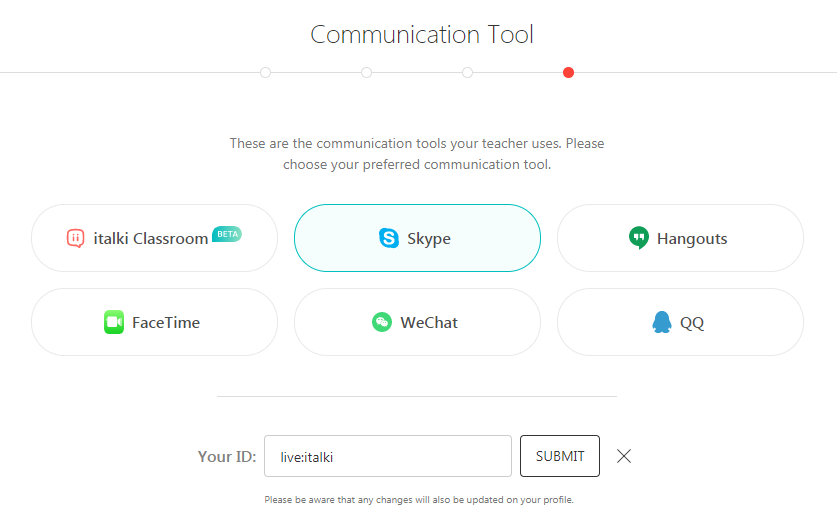 When a lesson request is accepted, you will be able to find your teacher's ID of the communication tool you have both agreed to on the lesson page.
If the software that you are used to is not listed, you can contact the teacher and ask if it is available for him/her to use.
ATTENTION: The communication tool can NOT be changed for a lesson/package once it is successfully booked.
So we suggest that you select the italki Classroom as your communication tool. Meanwhile, prepare 1-2 alternative communication tools just in case. You can also friend your teacher (if applicable) before the lesson time to avoid any account or connection problems.
Useful links:
External link from Apple: Use FaceTime with your iPhone, iPad, or iPod touch or on your Mac.
External link from Google: Google Hangouts.