This article will introduce
Trial Lessons
Trial lessons are offered by teachers at a discounted price to help new italki users quickly embark on a language learning journey!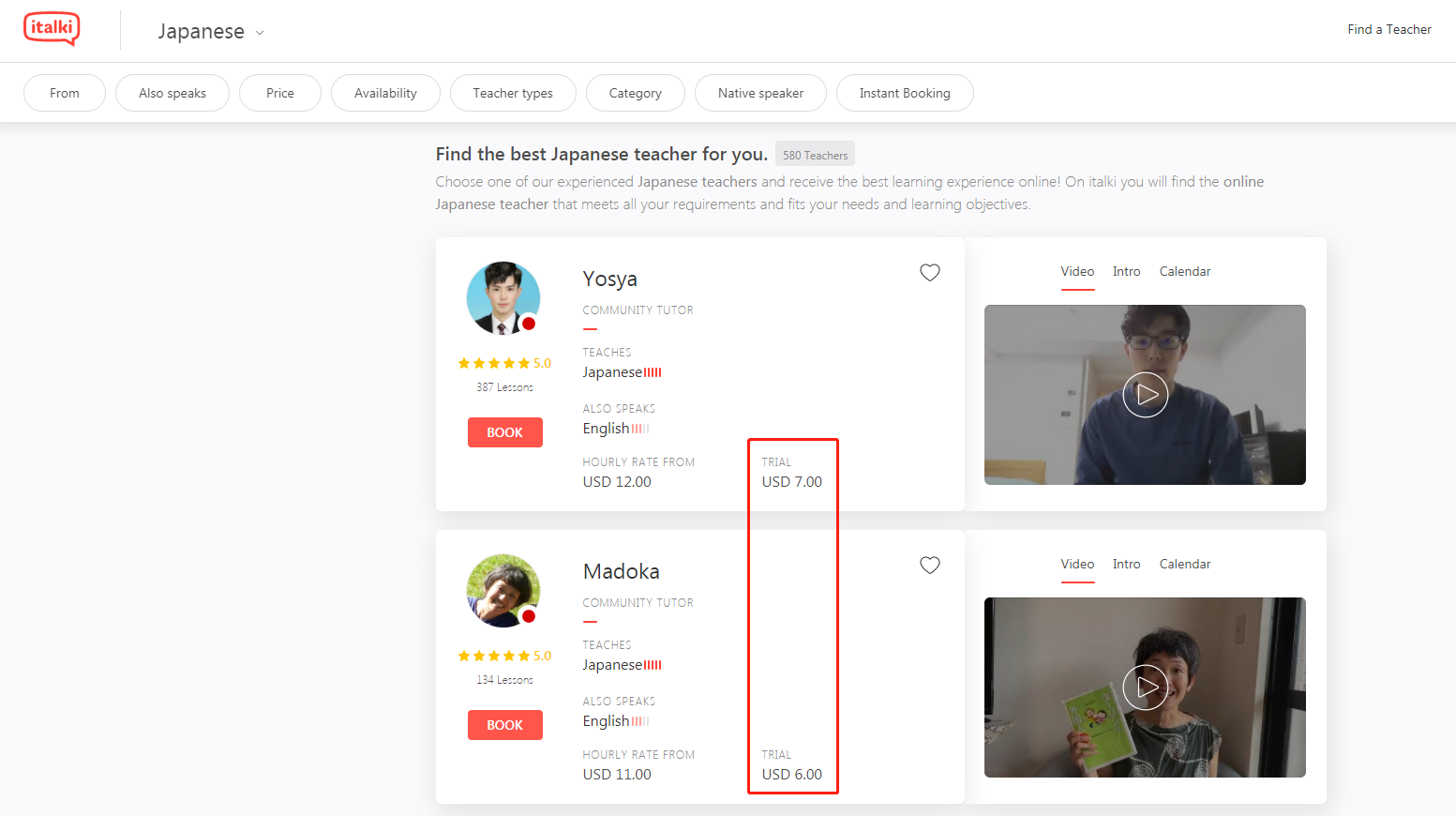 Trial lessons are designed to allow students to quickly adapt to the italki booking process - find a teacher you like on a marketplace, talk with your teacher about your learning goals and plans, finish the booking process, and confirm a lesson is completed.
We understand it can take some time to find the best teacher for you. Before booking a trial lesson, we suggest that you research a bit more about a teacher by reading feedback from previous students, watching the teacher's introduction video, and talking with the teacher about your learning habits. It helps with finding a teacher who suits your needs the most. (How can I find a teacher that's the best for me?)
How many trial lessons do I have on italki?
Each new user has 3 Trial lessons that need to be taken with three different teachers. Teachers can choose whether to provide trial lessons. Not all teachers provide trial lessons.
You can find your remaining trial lessons on your Student Dashboard.

Do Trial Lessons expire?
Trial Lessons don't expire until you complete all of them. If you are already familiar with how to book and take classes on italki, you can book single lessons in between your trial lessons.
Single lessons
Booking lessons on italki is very flexible. You don't need to pay hundreds of bucks upfront to buy dozens of lessons from a teacher you hardly know. Instead, you can book lessons with a teacher one by one until you find the teacher that suits you best and provide you with customized teaching services.

On italki, You can choose to pay per single lesson anytime or purchase a certain number of italki credits to book lessons.
Each teacher provides 60min single lessons. In addition, teachers can choose whether to provide 30min and 45min lessons and Lesson Packages. (What is a package?)
You can choose to purchase a certain amount of italki Credits at once, saving you the trouble of paying per lesson. Then you can directly use the credits to book single lessons or packages.
Why is the price of the teacher's Trial lesson/Single Lesson/Lesson Package different?
In order to build a fair and healthy marketplace, italki sets a minimum hourly rate for Community Tutors and Professional Teachers. But lesson/package prices are set by teachers of their free will and italki doesn't control the fluctuation of the price.
If you have found an ideal teacher, go ahead and book a package! Teachers often offer packages at a discounted price. Buying a package allows you to purchase multiple lessons all at a great price. Also, it saves you the trouble of booking each lesson separately.
Read more:
Can I take a lesson now or do I need to book in advance?
Why hasn't my lesson request been accepted?